The Suicide Prevention Coalition of LI organizes an annual educational conference on suicide-related topics. Our 15th Annual Symposium will be held on 12/9/22. This will again be a virtual conference, in view of the uncertainty of the COVID pandemic. More details to follow in the coming months.
Last year's conference was held on 9/1/21. Meryl Cassidy, Executive Director of Response Crisis Center, opened the conference and welcomed the participants.
Our Keynote Speaker was Doreen Marshall, PhD, Vice President of Mission Engagement for the American Foundation for Suicide Prevention,  Dr. Marshall's talk was entitled " Protecting our Mental Health and Suicide Prevention During CVID-19 Lessons Learned and Ways Forward". 
Here is a copy of the handout from Dr. Marshall's presentation: Dr Marshall's powerpoint handout
Dr Marshall, along with a panel consisting of Michael Hoffman, LCSW, Adrienne LoPresti of YES Community Counseling Center, Rachel Priest of Mental Health Association in Nassau Conty, and Linda Sherlock-Reich of EAC Network's Project Hope answered questions and responded to comments.
Phil Schoppmann, past Coalition Co-Chair, provided an overview of the Coalition's newest initiative: Project Signum. This project will provide suicide prevention information and resources to liquor stores, tattoo parlors and gun shops as well as their customers.
Our Featured Presentation was given by Garra Lloyd-Lester, Director, NYS Suicide Prevention Community and Coalition Initiatives for  the Suicide Prevention Center of NY.  Lloyd-Lester spoke about current suicide prevention initiatives in New York State. 
Here is a copy of the handout from his presentation: Garra Lloyd-Lester Presentation
****************************************************
Our 13th annual 'virtual conference' was held on December 8, 2020.

Our Keynote Speaker was Kenton Kirby, LCSW, Director of Practice at the Center for Court Innovation. 
In his talk, Mr. Kirby spoke about the impact of race and racism on the mental health of those in communities of color. In the Black Lives Matter era it is important for us to acknowledge this impact and take positive action towards healing and increased understanding.
Our Featured Speaker was Ahmed Belzi, Epidemiologist.
Two years ago Suffolk was one of four counties in NYS to receive funding to establish a Suicide Fatality Review Team (SFRT). Several of our Coalition members serve on that team. The funding from NYS allowed Suffolk to hire an epidemiologist to work with the Medical Examiner's Office and the SFRT to take our data and use it to make specific recommendations for action. Mr. Belazi, provided a presentation on Suffolk's data to give us some insight into what they mean and how we can use these data to make informed decisions about activities that can directly help our communities to address and reduce suicide.
*************************************************
Our 12th Annual Conference was held on Tuesday, December 10, 2019 at the Melville Marriott hotel. Over 220 professional, school personnel, survivors and those with lived experience attended, as well as those from the general public. Our Keynote Speaker was Vanessa McGann and our afternoon featured speaker was Mike Veny. There were five workshops on a variety of topics relevant to education regarding suicide prevention, intervention and postvention.
Our Conference Committee reviews the conference evaluations: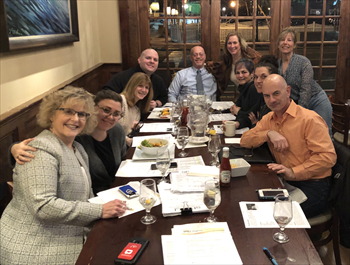 Here are some pictures from our 2019 conference: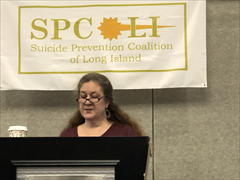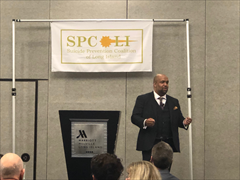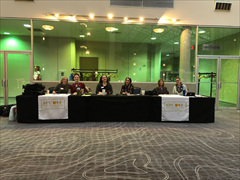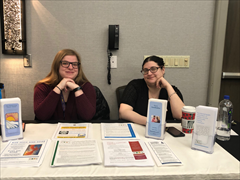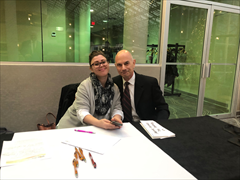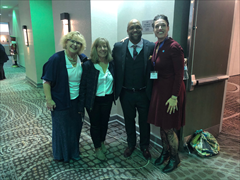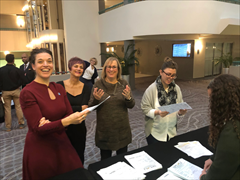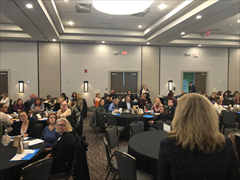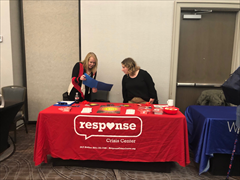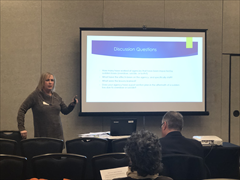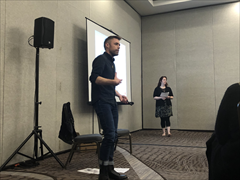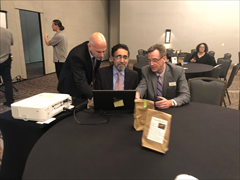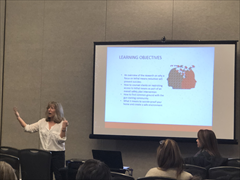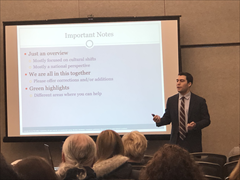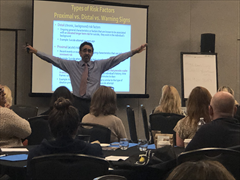 Here are pictures from our 2018 conference: